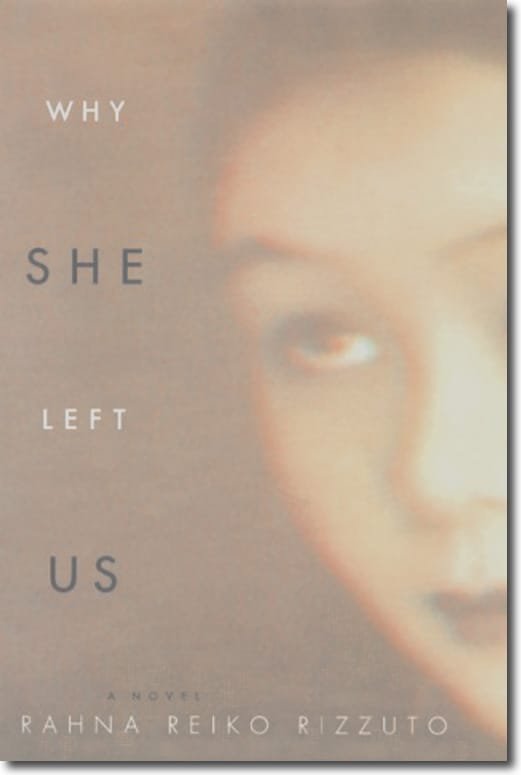 "Eric's heart is going to burst. His heart is holding all his breath. Except, his cheeks are holding some, and more floats across his eyes. The cars outside keep passing, vague and dizzy through the parlor window. Eric's head is light now.
He has to let it go."
why she left us
A haunting novel of uncommon emotional power, Why She Left Us weaves in and out of the personal tragedies and political persecution of three generations of a Japanese American family and exposes the complex, often destructive bonds of love and honor that tie a family together.
At the center of the story is Emi Okada, a young girl who finds herself pregnant and alone on the eve of World War II. She gives up her firstborn, Eric, for adoption, but her mother finds the boy and brings him home, intent on raising him as part of the Okada family. This crucial event becomes a turning point in the story as it dramatically alters the lives of Emi's parents, siblings, and, later, her children. Betrayals and secrets tear a family apart a family that is already struggling with assimilation, intergenerational conflict, and war.
Narrated in turn by Emi's two children, Eric and Mariko, her mother, Kaori, and her brother Jack, Why She Left Us crisscrosses the century–from Japanese picture brides and migrant farm workers to the internment of Japanese Americans in the Colorado desert to contemporary Los Angeles and Hawaii, where Emi's two children have settled as adults. Sparely and exquisitely written, Why She Left Us is a superbly accomplished first novel that illuminated the universal relationships between mothers and their children, while evoking the power of history to affect individual lives.
History
Set during World War II, the novel traces the history of the 120,000 Japanese Americans and their families who were forceably taken from their homes….
Secrets and Silence
Blah blah…
"Memorable and haunting. Each chapter is a searing episode. Ms. Rizzuto's powerful, economic prose and original characterization keep this novel from becoming a maudlin soap opera, and the nonlinear narrative device she uses succeeds in creating a dense collage of traumatic and redemptive scenes. If her debut novel is any indication, she has a strong career ahead of her."
"Searing. Rizzuto expertly heightens the drama of the Okada family's saga with her tensile and vigorous prose, as unsparing as the story she tells. The harsh conditions of immigrant life, and the scars it leaves on succeeding generations, have been portrayed before, but Rizzuto's uncompromising portrait of the suffering of Japanese-Americans is depicted with rare force and candor."
"Rizzuto's characters are wonderfully well-drawn – jagged, honest and unpredictable. A shelf of novels and memoirs has explored the Japanese internment, and countless more have examined the clashes between immigrants and their offspring, marching inexorably away from old values. What sets Rizzuto's novel apart is her narrow focus on a handful of flawed, striving, uncertain people, bound by blood and obligation but never quite managing to read each other's souls."
"There is a temptation to read this novel quickly; the plot and well-crafted characters lend a sense of urgency. But rushing thorough would be a mistake, not only because time is needed to sort out the shifting viewpoints, but also because it would be a shame not to savor the author's lyrical prose. She wastes no words, and each word contributes to the whole."
"Ambitious…lyrical…intriguing… Why She Left Us is broad in scope, yet its greatest pleasures are small ones. Rizzuto deftly counterbalances the dramas of World War II and of home life. Reading the book is akin to assembling a jigsaw puzzle as the picture gradually emerges."
"Why She Left Us is a beautifully crafted and finely orchestrated novel. Rahna Reiko Rizzuto weaves together diverse points of view to tell the story of a family's tragedy and redemption. Not only was I captivated by the artistry of the book, but I learned so much about the legacy of Japanese-Americans in this country. This is a book that breaks the reader's heart and then heals it the way only a fine story can, page by well-crafted page."
"In a debut novel of depth and grace, Rahna Reiko Rizzuto creates a haunting portrait of a Japanese American family splintered by a history of betrayal and secrets. Why She Left Us weaves the national shame of World War II's internment camps with the personal tragedies of three generations of the Okada family. Narrated by four family members, their story is one of violence, pain, and also, ultimately, the gift of forgiveness."
"Beautiful and poignant, Rahna Reiko Rizzuto's Why She Left Us tells the bitter truths of the Japanese-American story the issei and the nisei choose to bury in sadness and shame. What a gift Rizzuto offers as she fuses the shadows of the generations and leads us with unflinching honesty to wisdom and forgiveness."