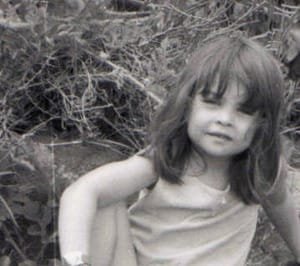 "When I was growing up in Hawai'i, everyone was a little bit of this and that. I always thought of myself as half-Japanese and it wasn't until I got to the mainland that I realized I am, for all practical purposes, white. My face defines me, in exactly the same way that my mother's Japanese-American face got her turned away from hotels in the south when she was traveling with her Caucasian husband in the 1960s, in exactly the same way every person is defined in the United States. What a shock that was. I still haven't gotten over it."
Rahna Reiko Rizzuto was born in Hawai'i and grew up in a small "cow town" on the Big Island. Her novel about the Japanese American incarceration camps, Why She Left Us, won an American Book Award in 2000. It also received a Gustavus Myers Outstanding Book Award Honorable Mention, and was named one of the Best Books of 1999 by the Honolulu Advertiser. In 2001, Reiko was awarded a US/Japan Creative Artist Fellowship, funded by the National Endowment for the Arts. She spent eight months living in Hiroshima, Japan to research her second and third novels. While she was there, she also began working on a book that is was inspired by her experience of living at the original Ground Zero and interviewing the atomic bomb survivors as the September 11th attacks unfolded within sight of her Brooklyn-based family. This book, Hiroshima in the Morning, was published in 2010 by the Feminist Press. It was named a National Book Critics Circle Award Finalist, an Asian American Literary Award Finalist, a Dayton Literary Peace Prize Nominee, and the winner of the Grub Street National Book Award in Nonfiction.
Reiko's third book, Shadow Child, tells the story that she went to Japan to research.  It is a mystery, a family saga, and historical fiction, told from the perspective of three strong women, bookended by two crimes. It was published by Grand Central Publishing in 2018, the third and final book in what she considers to be an informal triptych on the Japanese American experience during World War II.
Reiko was on the faculty for the MFA in Creative Writing program at Goddard College in Vermont for 16 years. She is a Hedgebrook alumna and has taught master classes and at the Vortext writing salon for Hedgebrook, and has been an active member of the Asian American Writers Workshop, where she has taught workshops and judged awards.  She is also the founder and leader of the Pele's Fire writing retreat on the Big Island of Hawai'i, which ran for three years and then transformed itself into the Two Trees Writers Collaborative.
Reiko has been a guest on television and radio internationally, including appearances on The Today Show, 20/20 News, The View, The Joy Behar Show, MSNBC-TV and PBS-TV, Oprah Radio, CBC Radio and NPR.  She has been featured in print and Internet media as well, including Yahoo Shine, Grazia (UK), The Globe and Mail (Canada).  Her articles on Hiroshima and the effects of radiation have appeared in more than thirty newspapers from here to India, through the Progressive Media Project, including The Progressive, Newsday, The San Jose Mercury News, The St. Petersburg Times, and The Providence Journal. She writes for Salon.com and is a featured Huffington Post blogger, and her essays and stories have appeared in the L.A. Times, The Guardian UK, CNN Opinion, the Crab Creek Review, New York Family Magazine, the anthologies Mothers Who Think, Because I Said So, Topography of War, and Alchemy of the Word: Writers Talk About Writing, among others. She was Associate Editor of The NuyorAsian Anthology: Asian American Writings About New York City, which was a Pen Open Book Honoree.
Rahna Reiko Rizzuto is mixed race: Japanese/Caucasian. She lives in Brooklyn, NY.