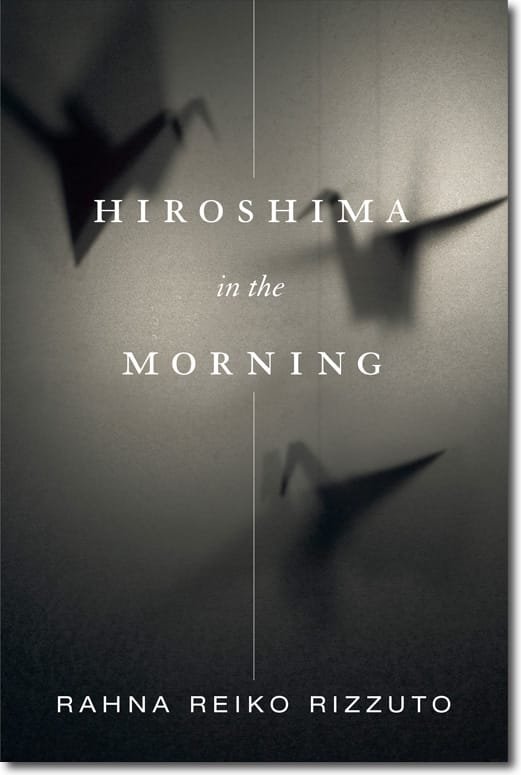 National Book Critics Circle award Finalist
I can tell you the story but it won't be true.
It won't be the facts as they happened exactly, each day, each footstep, each breath. Time elides, events shift; sometimes we shift them on purpose and forget that we did. Memory is just how we choose to remember.
We choose.
hiroshima in the morning
In June 2001, Rahna Reiko Rizzuto went to Hiroshima in search of a deeper understanding of her war-torn heritage. She planned to spend six months there, interviewing the few remaining survivors of the atomic bomb. A mother of two young boys, she was encouraged to go by her husband, who quickly became disenchanted by her absence.
It is her first solo life adventure, immediately exhilarating for her, but her research starts off badly. Interviews with the hibakusha feel rehearsed, and the survivors reveal little beyond published accounts. Then the attacks on September 11 change everything. The survivors' carefully constructed memories are shattered, causing them to relive their agonizing experiences and to open up to Rizzuto in astonishing ways.
Separated from family and country while the world seems to fall apart, Rizzuto's marriage begins to crumble as she wrestles with her ambivalence about being a wife and mother. Woven into the story of her own awakening are the stories of Hiroshima in the survivors' own words. The parallel narratives explore the role of memory in our lives, and show how memory is not history but a story we tell ourselves to explain who we are.
History
Research
writing memoir
Book club guides
Two sets of reading guides from the Feminist Press. Contact them for exam copies and get books in bulk for your book club with free shipping.
If your book club is reading Hiroshima in the Morning, let me know! I am happy to talk to you via Skype or in person if you are near me. Or send me five questions, and I will answer them.
Here is the book club info.
Here is the teachers' guide.
"The many avenues of Hiroshima in the Morning–explorations of history, of culture, of family, of self–ebb and flow to deliver a stunning portrait of survival. Rizzuto's writing is lyrical and moving, transcendent and beautiful, yet it constructs a robust narrative that does not succumb to the gravity of the world events that inform it."
"Throughout the narrative of her time in Japan, Rizzuto swirls in recurring motifs such as dreams, memories and hallucinations of her mother, who's suffering from Alzheimer's, and her growing friendships in Hiroshima. The book ultimately is about motherhood and family relationships, and the personal, fictionalized nature of memories…The way she lays out her emotional journey openly and unashamedly and writes transparently about her personal struggles in "Hiroshima in the Morning" is downright heroic."
"This book is an important contribution to the growing understanding that we are all part of history, and we all make history. A moving account of a contemporary voyage, which is also a voyage back in time, reckoning with and bearing witness to one of the great tragedies of the last century."
"Using diary entries, emails, telephone transcripts, and oral histories, Rizzuto pieces together a masterful collage about Hiroshima, 9/11, ambivalent motherhood, a doomed marriage, and a writer trying to understand what narrative means amidst so many kinds of bombs hitting so many beloved targets."
"Rizzuto's prose is breathtaking, poetic, and insightful. I loved this book on so many levels, but especially for its wisdom. What Rizzuto does in Hiroshima in the Morning is to place the individual within the context of the community, to show that we are all connected through our stories and experiences, and that self-discovery is to be found in our relationships with others as well as through our unique view of the world. Hiroshima in the Morning is a book which I highly recommend. Women, especially, will be drawn to Rizzuto's story. This is a story which transcends the average memoir, a story which is both personal and universal."
"If remembering lies at the heart of all memoir, the best memoir goes far deeper—asking questions about the propulsive nature of time, the consequences of forgetting, and the treacherous liberations of solitude. Hiroshima in the Morning is a memoir of the most sophisticated kind—a lyric, a quest, a universal poem."
"This searing and redemptive memoir is an explosive account of motherhood reconstructed. Pulling from the wreckage of two wars, as well as the loss of her own mother to Alzheimer's, Rahna Reiko Rizzuto recasts her identity as a mother and a daughter, and finds a truer connection to her family."
"Rahna Reiko Rizzuto's new book is both intimate and global, lyrical and clear-eyed, a compelling personal narrative and an important social document. Here past and present, Hiroshima and 9/11, interweave, echo and re-echo to tell a story of unendurable loss and tragedy but also of tenacity, survival and rebirth."
In writing as beautifully gestural and balanced as Japanese brush painting, with a clarity of perception and humility that is rare in a book so intimate, Hiroshima in the Morning is a brave, compassionate, and heart-wrenching memoir of one woman's quest to redeem the past while learning to live fully in the present."
"In this meta-biography, Rizzuto intersperses short narratives from these interviews with her own experience, as she becomes more at home in Japan and with herself. As one identity gathers substance, another falters. Rizzuto's marriage begins to unravel, and she is wordless in the face of her husband's accusation that she has changed. The space between silence and story, the slippery quality of memory, and how one person might attempt to retrieve and connect to history are the tropes that create the book's infrastructure…Hiroshima in the Morning is a deeply affecting record of the author's exploration of story and memory, and an intriguing addition to existing 9/11-related books."