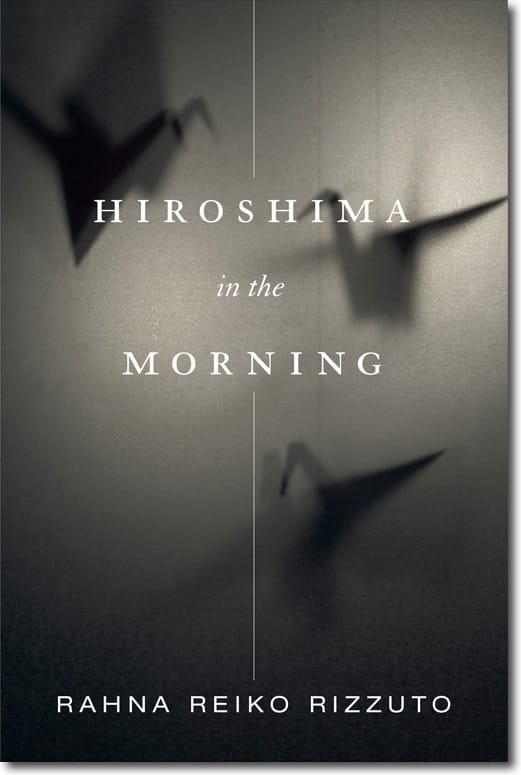 National Book Critics Circle Finalist
Grub Street National Book Award Winner
Asian American Literary Award Finalist
Dayton Literary Peace Prize Nominee
order from Feminist Press | IndieBound | Amazon | Barnes & Noble
see also: the discussion guide for Hiroshima in the Morning (PDF)
see also: the teachers' guide for Hiroshima in the Morning (PDF)
see also: book club info for Hiroshima in the Morning (PDF)
"The many avenues of Hiroshima in the Morning–explorations of history, of culture, of family, of self–ebb and flow to deliver a stunning portrait of survival. Rizzuto's writing is lyrical and moving, transcendent and beautiful, yet it constructs a robust narrative that does not succumb to the gravity of the world events that inform it."

-Rigoberto González, National Book Critics Circle 
In June 2001, Rahna Reiko Rizzuto went to Hiroshima in search of a deeper understanding of her war-torn heritage. She planned to spend six months there, interviewing the few remaining survivors of the atomic bomb. A mother of two young boys, she was encouraged to go by her husband, who quickly became disenchanted by her absence.
It is her first solo life adventure, immediately exhilarating for her, but her research starts off badly. Interviews with the hibakusha feel rehearsed, and the survivors reveal little beyond published accounts. Then the attacks on September 11 change everything. The survivors' carefully constructed memories are shattered, causing them to relive their agonizing experiences and to open up to Rizzuto in astonishing ways.
Separated from family and country while the world seems to fall apart, Rizzuto's marriage begins to crumble as she wrestles with her ambivalence about being a wife and mother. Woven into the story of her own awakening are the stories of Hiroshima in the survivors' own words. The parallel narratives explore the role of memory in our lives, and show how memory is not history but a story we tell ourselves to explain who we are.
Advance Praise for Hiroshima in the Morning
"This book is an important contribution to the growing understanding that we are all part of history, and we all make history. A moving account of a contemporary voyage, which is also a voyage back in time, reckoning with and bearing witness to one of the great tragedies of the last century."
— Susan Griffin
"If remembering lies at the heart of all memoir, the best memoir goes far deeper—asking questions about the propulsive nature of time, the consequences of forgetting, and the treacherous liberations of solitude. Hiroshima in the Morning is a memoir of the most sophisticated kind—a lyric, a quest, a universal poem."
— Beth Kephart
"Rahna Reiko Rizzuto's new book is both intimate and global, lyrical and clear-eyed, a compelling personal narrative and an important social document. Here past and present, Hiroshima and 9/11, interweave, echo and re-echo to tell a story of unendurable loss and tragedy but also of tenacity, survival and rebirth."
— Lauren Kessler
"In writing as beautifully gestural and balanced as Japanese brush painting, with a clarity of perception and humility that is rare in a book so intimate, Hiroshima in the Morning is a brave, compassionate, and heart-wrenching memoir of one woman's quest to redeem the past while learning to live fully in the present."
— Kate Moses
"This searing and redemptive memoir is an explosive account of motherhood reconstructed. Pulling from the wreckage of two wars, as well as the loss of her own mother to Alzheimer's, Rahna Reiko Rizzuto recasts her identity as a mother and a daughter, and finds a truer connection to her family."
— Ayelet Waldman
Excerpt from Hiroshima in the Morning
LEAVING
I can tell you the story but it won't be true.
It won't be the facts as they happened exactly, each day, each footstep, each breath. Time elides, events shift; sometimes we shift them on purpose and forget that we did. Memory is just how we choose to remember.
We choose.
It begins in our house, on the top floors of a 19th century brownstone. I'm sitting at our long dining room table across from my husband Brian, my two, brightly-pajamaed sons asleep – finally – after slipping downstairs for water, and then just one more kiss between the banisters. The year is 2001, the place New York City, and in the quiet of the last, warming days of May, I am making a list.
I am a list maker, a super-organizer who measures her success in life by how many of the items she's checked off. This is who I've always been, and it's never occurred to me to question it. It occurs to me only that I have a goodbye party to throw for myself, which will involve a 25-pound pork butt, Hawaiian rock salt, and ten yards of purple plumeria-patterned fabric that I've ordered on the internet but has yet to arrive. If I think about plates, about feeding fifty of my dearest friends who will come to wish me well, I will not have to think of this trip of mine – my first trip away, my first trip alone, my six-month long "trip" to the other side of the world.
Brian watches me busy myself. And then the question: "Why are you going to Japan?"
I lift my eyes – the answer so obvious that it hardly seems possible his question is real. It is, in fact, impossible to consider his question, to glimpse just the broad shoulders of his doubt before it escapes into the shadows, to hear the bass notes of sadness in his voice. Impossible because these things would trap me.
Even looking around my home would hold me here.
I will come to believe, months from now, that life is a narrative. That who we are, what roles we choose – that these are deliberate characters we create to explain what we did and find a way to face tomorrow. That memory is not history. That we rewrite ourselves with every heart beat. At this moment, though, my life is still a given. It does not – despite the contradiction of reality – change. My life is what surrounds me; I subsist on it so entirely that I can't begin to see it. The air I breathe is the air that still shimmers in the spot, just above me, where my enormous belly and I once stood on a scaffold, in a bikini top and a pair of baggy sweatpants, spackling the ceiling three weeks before my oldest son was born. I still draw sustenance from the echoes over the kitchen floor where my children love to dance during dinner; echoes that shrink, cool, fade but do not, even over lifetimes, completely disappear. I am more than anchored to my world, I am tied tight like Gulliver by the tangle of past poses and years – mine, Brian's, my children's – toe here, breast, belly button, wedding ring. In the room, in the trophies from every trip Brian and I have taken since we were teenagers, there are so many flags that say we were there, and there, and there; there are decades of a life that's far more tangible than I am. And it's not just the there, the good life, that I am dangerously, paradoxically blind to – it's the lack of my own identity, the utter, unqualified we.
Instead, I take inventory: I have stocked the freezer with food, put all the "to do" papers together for my sons' upcoming school year; I have rearranged our babysitter's schedule so Brian will be able to get to work on time and won't have to race home in the evening. He was there when I did these things; when I found the ad for the fellowship, he was the one who urged me to apply. I had rejected the idea: it was too unplanned for, this grant that would not be awarded for a year and then could be postponed for another; it was not absolutely essential. Six months to live in Japan, to do whatever I wanted, when I only needed three weeks, a month at most to do some research for my book. And yet. How else would I get to Hiroshima? The thought kept sneaking back, tangling my feet. There was an urgency growing – inexorable and obscure – even though I had no visual, of Japan, of absence, of myself, to guide my journey. I was the one who raised the idea in the first place, and though I could not picture myself leaving, still, I filled out the paperwork.
And then I won.
Brian had plenty of help with the children. And, he himself pointed this out, he had always promised to be their primary caretaker, so he owed me a chunk of time. Once the decision was made – the lying on the couch together, the press of flank to flank and Brian's assurances, not even whispered, that everything would be fine, he could handle it, they would come visit, maybe even for half the time – it became oddly easy to forget the fact that I'd never lived on my own, for six days let alone six months. That I had never lived in a foreign country, spoken another language; I'd never set off without a plan tucked carefully in my pocket and an extra copy posted on the fridge. Something about this opportunity had exploded all my patterns of behavior: I, the domestic center – the mother of babies, really, of small boys age three and five – came to see no portent in leaving my family with four telephone numbers in my backpack and not many more Japanese words in my head. But in my own rush to manage, and his inclination to ignore what's in front of him and hope for the best – 'how' had been the only question until this moment.
"Because I got the grant," I replied.
In Brooklyn, in 2001, I was making a list. I knew I was leaving, but if I had known how thoroughly my life would shatter over the next six months, into gains just as astonishing as the losses; if I knew I was saying goodbye to the person I was that night, that decade, that lifetime; if I understood I was about to become someone new, too new, someone I was proud of, who I loved, but who was too different to fit here, in this particular, invisible narrative that I was sitting in but couldn't feel, would I still have gotten on the airplane?
This is the question people will ask me. The question that curls, now, in the dark of the night.
How do any of us decide to leave the people we love?